Natural Dyeing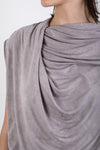 Back in 2015, we've made a change in our business model, that came from my instinct and personal drive and was based on two instances: natural fibers and agender.
It was a milestone and from this distance a very smart decision, which has brought the label recognition, mostly by the customers at first and then some local and international media, retailers and award juries.
So, we've come to expand the label slowly, added international drop shippers, retailers and invested in our web store and e-commerce, created an excellent team... and the Covid-19 pandemic struck.
Bounded at home, after an initial creative paralysis, it was time to start what I've always been fascinated with and never had the time to try it, let alone implement in my work.
NATURAL DYEING
Thanks to the "Slowscapes" showrooms we've organized, I've been following the work of Bibi, from Petel Paun Arts and Craft and came into very close contact with natural dyeing.
Personally, since I can remember, I've always been told by my mom never to buy polyester clothes, to avoid them and to check the label for 100% natural fabrics. 
It was later in my 20's when I've started developing dermatological issues, that I personally started using only natural fabrics by recommendation of my doctors. Being almost a cure to me, cottons and wools became a fabric that I immediately recognized by touching it and later by only looking at it.
So, when I first saw Dutch designers at Fashionclash Festival using natural dying in their work it seem very poetic to me. Drawn by these ancient techniques I started looking into them, talked to Bibi who had firsthand experiences, joined Facebook groups...
And the experiments started in my home. I've collected pomegranates for some time, left them to dry by the window as I read and consulted several sources. I chose pomegranate as it gives grey and black hues with iron.
Acorns are found in my local park, where during lockdown we used to hang out instead of bars and acorns are a source of tannin, a permanent, dark dye source.
After several experiments in my kitchen and bath tub, I've come to very interesting results.
Natural dyeing is a long process, in many steps and each step takes time and overnight soaking or drying or both.
To dye one little fabric sample, usually we test it on all of our fabrics, the shirting cottons, cotton jersey, wool and the silk and cotton blend. Some fabrics require iron sulfate, others iron acetate and we've also tried copper sulfate and acetate which didn't produce any significant results for us.
Here are the first test samples:
Getting the same hues on a bigger piece of fabric was the next step. We use zero-waste cutting patterns and having in mind that our shirts are cut from pieces of fabric that exceed  3 meters it was particular challenge.
What we got in the end product was overwhelming. Not only the fabric appeared more noble than its initial greige/white state, but with its uneven dyeing, partially due to our limited conditions and technical resources, the cotton and silk textiles had a structured appearance, almost like they transformed into velvets or suede. And what I personally admire the most about the end results is that we got such a ambiguous hue, in line with our fluidity concept, that the colour of the shirts almost change, not in time, but in accordance to the light and the surroundings.
Here are our naturally dyed shirts and tops from our spring/summer 2021 collection: